Good news!!! More than 10000 units of pure electric parts, orders, fortune workers, and access to product quality service award
[fortune news]: the plan of the year lies in spring. In the spring of spring when all things are brought back to life, the first quarter is not over yet, and Fu Fu is fruitful. Pure electric system has received more than 10000 orders, which stems from the customer's recognition of the Fu products.
[quality of work]

Fu Gong power is one of the earliest companies engaged in the development and production of new energy bus power systems. Based on the existing technology, in pursuit of higher product stability and integration, the company will strengthen development efforts in R & D, win the quality of products, and at the same time improve the quality of service in a more profound way.
At present, Fu's products, protection levels reached IP67, EMC anti-interference reached 3, and some standards are even higher than the "electric bus safety technical conditions.".
Just a few days ago, Fu Gong in China through hundreds of suppliers to stand out, became the 2016 outstanding supplier of passenger cars in the year, and won the "quality of Excellence Award" this award.
Fu work with the stability of the product has been unanimously recognized by customers, will continue to high-quality product quality services to customers. Fu Fu industry will rely on free from arrogance and impetuosity, new product marketing, will be built into a general platform open to the whole industry of national level depth hybrid system, has become China's energy-saving and new energy automotive industry the core powertrain suppliers and key components supporting enterprises, become the leading domestic and international first-class new energy products suppliers.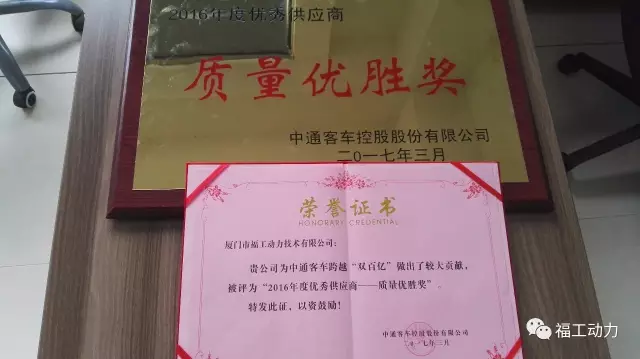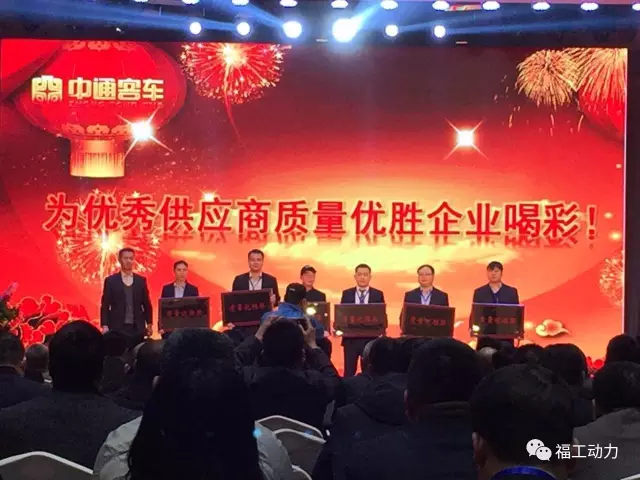 [star products]
1 、 pure electric vehicle controller and integrated power supply:
Pure electric vehicle controller and integrated power supply, only 2016 completed 15000 sets of sales.
(1) pure electric vehicle controller:
Fu industrial pure electric vehicle controller with multiple input and output ports, the vehicle controller is the core of the whole control system, control plays the role of global signals can accept the voltage monitoring issued, and judge; control cooling system, braking system, speed in the process.
Major advantages:
●a CAN bus interface with three separate lines, capable of communicating with other ECU and meters;
●Built in the power voltage detection function, can effectively ensure the normal operation of the controller;
●Safe and real-time fault monitoring algorithm, to ensure that the vehicle has good safety;
●Built in flash memory can be used to store and update parameters, which can optimize vehicle performance;
●Practical upper computer software, can debug and monitor the controller;
(2) integrated power supply:
The power system integrated power electric drive unit, the vehicle high voltage distribution, pump & oil pump, dual DC-DC (first DC-DC for charging lead-acid battery, to second DC-DC in order to improve the power supply power steering at least 30S) and charger. Fu's integrated power supply can meet the needs of all users.
Major advantages:
●Aiming at the application requirements of the pure electric vehicle, the advanced control technology is adopted, which has the same excellent performance as the international high-end motor controller;
●A combination of various control methods, high control accuracy, high drive efficiency;
●The utility model has the functions of immediate stop protection, such as over temperature, overload, interphase short circuit, ground short circuit, over current, over voltage, under voltage, lack of phase, stall, sudden change of load at work, etc..
2, CHS1800/CHS18000 system products:
Fu works CHS1800 for 1.5-2.4L engine displacement, torque<1800N.m, can use sea lions, pure electric cars.
Fu CHS18000 for 4.5-6.5L engine displacement, torque<18000Nm; can be applied to the 8-12 meter bus, road bus hybrid, pure electric vehicles.
Major advantages:
●In the case of no plug, the actual fuel saving rate can reach 40-50%, reaching the world class level, higher than ISG and AMT plug-in hybrid power system 10-15 percentage points higher;
●Compared with ISG system, the climbing ability is better, and the ride performance is better;
●Medium and low speed working conditions are more efficient, and they are more suitable for urban working conditions than other systems. It is the best choice for city buses;
●High degree of integration, product scalability, applicable to ordinary hybrid, pure electric, plug-in hybrid power and other models;
●Using the design concept and quality control system of passenger cars, integrating the mass purchase system of passenger cars, the price is more advantage;
●The core of the system is a continuously variable transmission (E-CVT) with electronic control, which can realize single mode input and compound power split.